Dream Project College Access Internships
Intern at a local middle or high school supporting student postsecondary planning; support facilitation of Dream Project lectures; and support peers during visits to local high schools.
College and Career Readiness Assistant (CCRA) Internship
College and Career Readiness Assistant (CCRA) interns will support and deepen the work of the current Dream Project mentorship model and support partner school College and Career Counselors in targeting and supporting high school and middle school students with multiple college readiness indicators.
Why get involved
Gain direct service experience working with youth in the public education system
Support traditionally underserved students in navigating barriers to post-secondary education opportunities
Learn about some of the realities, complexities and challenges that students, families, school staff and administrators face in their day-to-day work and environments
Gain experience coordinating large events, hosting and facilitating workshops, and compiling and analyzing data
What to expect
This is an academic year-long paid internship. Interns must meet the following components:

Be current UW undergraduate students during the academic school year
Participate in professional developments on campus 4 Wednesday evenings a quarter 
Be culturally responsive, respectful of diverse backgrounds, have experience working with low-income, first-generation status students, and students of color 
Maintain a schedule that allows for serving 10-12 hours per week at a school placement site
Willing to adhere to school placement site policies while serving
Mentorship Coordinator Interns (MCIs)
The UW Dream Project's Mentorship Coordinator Internship (MCI) offers UW undergraduate students hands-on opportunities to gain experience in the field of education and engage in community-based learning. MCIs will work 10 hours per week, including travel time which varies depending on mentorship event site location. MCI hours will be spent preparing for and facilitating bi-weekly EDUC 401A content on post-secondary planning topics, at local high schools supporting undergraduate mentors and engaging mentees during school organized college and career readiness events, working with the Manager of Community Relations to support EDUC 401A course logistics, and in professional development sessions. Interns will also receive a stipend bi-weekly, totaling $5,100 for the entire term (September-June). This position is open to undocumented students. MCIs support CELE Courses/Dream Project's EDUC 260 and EDUC 401A courses and serve as program representatives during off-campus mentorship events at local partner schools. MCIs will work together as a small team to oversee all mentorship events and facilitate EDUC 401 A sessions.
Responsibilities
Serve as a Dream Project representative while at partner schools, developing strong reciprocal relationships with school staff and administrators, and troubleshooting when necessary. Act as liaison between schools and DP while at mentorship events.
Communicate with school partner staff to provide updates and information in relation to mentorship events.
Act as DP school event coordinator; handle DP logistical details and plan for mentors.
Take mentor attendance at mentorship events, and be the Dream Project lead on-site, addressing mentors when behavior or actions are inappropriate and reporting back to DP staff.
Coordinate UCar schedule and communicate with mentors around information needed for event carpooling as needed for mentorship events.
Designate drivers for mentorship events and ensure all UW UCar driving requirements are met prior to events.
Meet weekly with the DP team and Manager of Curriculum & Student Support to prepare EDUC 401A lesson plans.
Support peer learning through preparing and facilitating EDUC 401A lesson plans with the DP team to present on bi-weekly basis. EDUC 401A content should prepare mentors for high school events by providing them with important financial aid knowledge, post-secondary planning, college access content, and effective mentorship strategies.
Support Manager of Curriculum & Student Support with grading (for EDUC 401A) as needed.
Support DP and other CELE programs with various efforts related to recruitment, retention, and events. This includes tabling to increase student numbers and taking on planning and day-of responsibilities at various events throughout the school year.
Requirements and Time Commitments
Satisfactory completion of UW background check
Completion of UW Youth Programs Trainings related to working with minors
Attend an orientation and training session TBD
Attend weekly team meetings to coordinate EDUC 401A (date/time TBD)
Attend and engage in EDUC 260 (Mondays, 11:30 AM - 12:50 PM).
In collaboration with the DP team and Manager of Curriculum & Support, prepare content for and facilitate EDUC 401A course bi-weekly.
Must have general evening availability to attend and act as program leads at mentorship events.
Must have 10 hrs/wk dedicated to this role, September-June, with the exception of holidays, UW breaks, and finals weeks
Internship Values & Learning Objectives
Value #1: Advocacy — Interns will learn information, tools, and resources to assist in navigating complex systems and overcoming barriers related to accessing post-secondary pathways, with an emphasis being placed on financial aid. Interns will coach mentors in using these tools so that they can better support mentees in accessing the post-high school opportunities of their choosing.

Value #2: Collaboration  — Interns will gain experience working collaboratively as an HSL team and as part of the larger CELE program infrastructure. Interns will also gain experience working directly with school staff to troubleshoot event challenges and pursue school-designated goals for supporting mentees.

Value #3: Community Engagement  — Interns will build self-awareness and practice cultural humility as they learn about and experience the school community they are placed in. Interns will explore the impact that identity and privilege have on community work and be reflective about their own identity, experiences, privilege, and positionality.

Value #4: Equity  — Interns will develop a critical and complex lens for understanding the U.S. educational system as it relates to access, opportunity and social mobility. Interns will develop a nuanced understanding of the structural and institutional barriers and forms of oppression that exist within the U.S. public education system, and the impact they have on student experiences and outcomes, particularly focusing on underrepresented and/or marginalized populations.

Value #5: Self-Initiative and Accountability  — Interns will learn about and display self-initiative and leadership through coordination of mentorship events and facilitation of EDUC 369. Interns will reflect on their leadership styles and experiences, honing their skills and practices. Interns will also be accountable for their actions and hold mentors accountable according to program expectations. Interns will engage in giving and receiving critical and constructive feedback.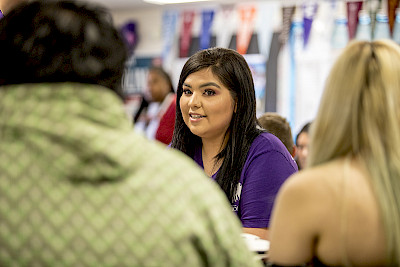 This opportunity is associated with: Dream Project
Learn more