College & Career Readiness Assistants (CCRAs)
This internship is a unique opportunity for interns to gain direct service experience working with youth in the public education system. Specifically, interns will support traditionally underserved students in navigating barriers to post-secondary education opportunities. CCRAs will also learn about some of the realities, complexities and challenges that students, families, school staff and administrators face in their day-to-day work and environments.
Description
College and Career Readiness Assistants (CCRAs) will:

Support school/district college & career readiness initiatives
Host & facilitate workshops for students and families on college & career readiness topics
Host student-led panels to engage students with various aspects of college and career opportunities.
Create classroom presentations on college and career readiness topics
Coordinate various college events, workshops, field trips and tours with fellow counselors on and off site for middle & high school students
Support students in completing college applications, writing personal statements, and understanding different types and aspects of financial aid
Connect graduating seniors with resources at their post-secondary institution to support college persistence
Work with graduating seniors on FAFSA/WAFSA completion to meet district/high school financial aid completion goals (High School)
Provide College Bound Scholarship education and support
Required qualifications
CCRAs must be current UW undergraduate students during the academic school year
CCRAs must participate in cohort meetings and professional development sessions every other Wednesday during each quarter, 5:30-7:20pm*
CCRAs must be culturally responsive & respectful of diverse backgrounds
CCRAs must maintain a schedule that allows for serving 10-12 hours per week at a school placement site, in blocks of a minimum of two hours (travel time not included)
CCRAs must be willing to adhere to school placement site policies while serving.
Acceptance to this internship is contingent upon obtaining satisfactory results from a criminal background check
This position is open to undocumented students.

*CCRAs may recieve academic credit for the professional development sessions by enrolling in LEAD 298B: College and Career Readiness Assistants. 
Desired skills and abilities
A strong CCRA candidate has:

Experience working with a diverse student population
Experience navigating the college applications process
An ability to take initiative in creating and leading your own projects
A willingness to work collaboratively and independently in a professional manner
Public speaking and group facilitation skills
Time Management skills
Strong verbal and written communication skills
Compensation and employment benefits
$18.69/hr for work-study students (or a stipend equivalent for non- work study eligible students), working approx. 10-12 hours/week
Opportunity to build a professional network and connect with educators in the Seattle and south King County community.
Hands-on experience working in schools and in the education field.
Experience working with diverse communities and stakeholders.
Development of professional skill sets beneficial to entering the workforce.
Opportunity for academic credit through LEAD 298B

 
Application questions
As a part of the application, applicants will be asked to submit a resume and respond to the following prompt:

Following the Dream Project's mission, please write a statement (300-500 words) on how your past and/or present experiences might serve to advance the Dream Project's mission and commitment to supporting young people from a variety of personal experiences, values, and world views as they prepare for post-secondary (after high school) pursuits. These experiences could be from other leadership positions, the workplace, the classroom or from other personal experiences.
School & District Partners
We work with many different schools across the Puget Sound region. 
Do you have questions? Email dreamproject@uw.edu.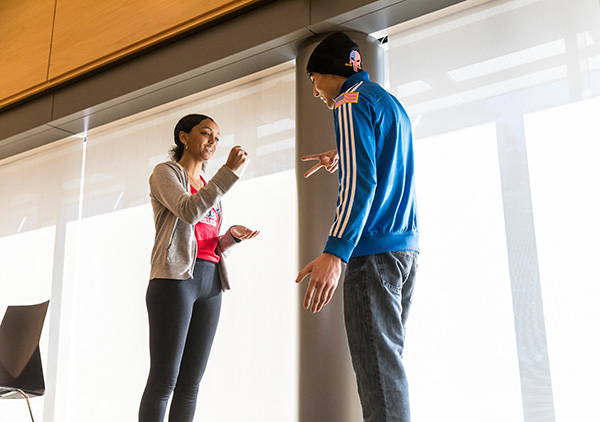 Currently seeking applicants
Type
• Federal work study
• Paid intern