Ellis Civic Fellowship
The Robert Lee Ellis Civic Fellowship selects during their first year at the University on the basis of financial need, dedication towards service, personal growth, and leadership development. Selected students make a 4-year commitment toward fulfilling Fellowship expectations. Ellis Fellows are awarded annual scholarships throughout their four years at the UW.
Application requirements and recommendations
View Application Instructions and Essay Prompts (login with UWNetID required)

Requirements
Incoming student at the UW Seattle campus. This means you must be in your first year as a full-time student at the UW with an anticipated graduation date in in 2025 (or beyond).

Documented financial need as determined by the Financial Aid Office. Most students fill this requirement by filing a FAFSA or WAFSA for the current academic year. We also accept applications from those who are not eligible to file for federal or state financial aid but can document financial need.

Committed to weaving public service and civic leadership development into your Husky Experience--including an effort to connect academic pursuits with community-engaged learning.
Recommendations
Successful fellows have been able to share the following interests. 
A clear commitment to service as shown through past experiences.

An interest in a particular social issue.

Ideas about future goals and what you hope to gain as an Ellis Fellow.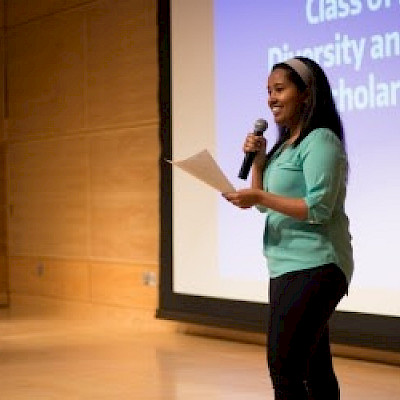 As part of the fellowship, I worked with a number of different organizations. First I explored local food banks, then a brief internship with Ventures, a non-profit that helps equip people with the tools they need to start their own businesses, then with the Dream Project.
—Feben Gebremichael, 2018, Business Administration & Information Systems
Read more
Other award and recognition programs
This opportunity is associated with: CELE Fellowships
Learn more